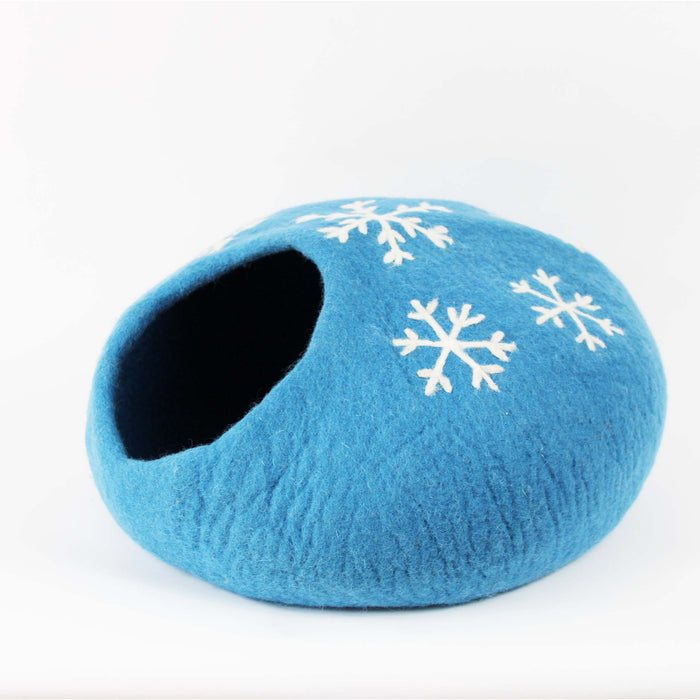 Cat Cave Bed - Let It Snow Cat Cave Pet Bed
Our artisan Cat Cave Beds are the purr-fect addition to your home, creating a welcoming place for feline friends and little critters! Our special pets are our world, which is why every Cat Cave Bed we offer is ethically made with soft organic Merino Wool by artisans in Katmandu, Nepal.
Featuring beautiful hand needled white snowflakes on a bluebird background, this beautiful design is like adding another piece of art to your collection! The natural lanolin in the wool will keep your pet smelling fresh while providing a natural repellent for odors and increased self-grooming!
Pet Size of 20lbs and smaller
Easily cleaned with warm water
Natural properties of wool keep your pet groomed & fresh
100% Organic Merino Wool
Size: 7.5" Opening x 10.5" Height" x 19 Width
*Sizing may vary slightly due to the nature of handmade items
** Openings can be easily enlarged by snipping the opening by ½" increments with scissors.
100% Organic Merino Wool Imported from New Zealand
"Green" Dyed with Plant Based Applications
Each Cat Cave is Wet Felted by Hand
Fair Trade Partnership in Katmandu, Nepal
Crafted with Love for You and Your Cats!