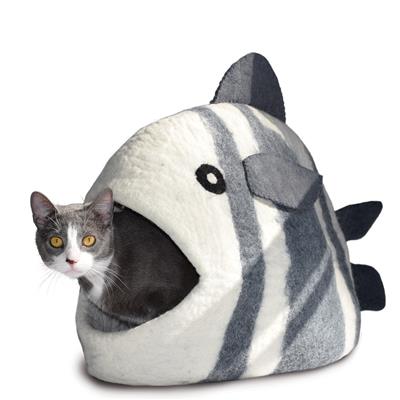 Cat Cave Bed - White & Grey Fish Cat Cave
Cat Caves create that perfect hiding space, where your pets can be in the middle of the action without being there at all.

Whether they are curled up by the fire for a nap or stalking prey in the kitchen, cats love having their own cozy space offered in their cat cave! Our 3D Cat Caves offer a fun, interactive and safe space for all the cats in your family and we would love to help you find the perfect cat cave to compliment any room in your home.

Our 3D Cat Caves fit cats, small dogs and your other furry friends, up to about 18 lbs.
Our 3D Cat Caves are made from Merino wool that is not only soft and pliable but easy to clean with lukewarm water. Merino wool offers natural properties that help to keep your cat well groomed and smelling fresh!

3D Cat Cave Measurements:
Hole - 8 inches
Height - 22 inches
Width - 17 inches
If you would like to enlarge the opening for your cat cave, a sharp pair of scissors works best. We recommend the "less is more" strategy when enlarging the hole and testing the results after 1/2" increments.
100% Organic Merino Wool Imported from New Zealand
"Green" Dyed with Plant Based Applications
Each Cat Cave is Wet Felted by Hand
Fair Trade Partnership in Katmandu, Nepal
Crafted with Love for You and Your Cats!