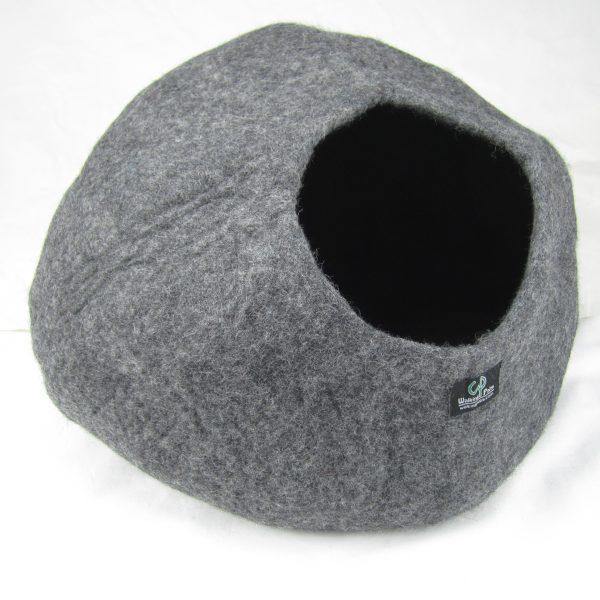 Felt Wool Cat Cave Bed - Heathered Grey
Cozy Cat Heathered Grey Cat Cave Bed 

Our Cozy Cat Cave Beds keep your pet feline good! The heathered grey cat cave is the perfect place to stalk pray, nap or hide. Each one of our Cat Cave Beds is carefully made with soft 100% organic Merino Wool by artisan felters in Katmandu, Nepal.
Hand-dyed natural felt in shades of soft heathered grey, this cat cave hideaway will be a paw-some addition to any space and an ultra cozy crib for your cat. The pliable, natural wool will keep your cat wrapped up in blissful comfort & relaxation. 
Fits cats 20lbs and smaller

Easily cleaned with warm water

Natural properties of wool keep your pet groomed & fresh

Natural odor repellant

100% Organic Merino Wool

Size: 7.5" Opening x 10.5" Height" x 19 Width
*Sizing may vary slightly due to the nature of handmade items
If you would like to enlarge the opening for your cat cave, a sharp pair of scissors works best. We recommend the "less is more" strategy when enlarging the hole and testing the results after 1/2" increments.
100% Organic Merino Wool Imported from New Zealand
"Green" Dyed with Plant Based Applications
Each Cat Cave is Wet Felted by Hand
Fair Trade Partnership in Katmandu, Nepal
Crafted with Love for You and Your Cats!